Kai-Kai has a family album project due tomorrow and just showed it to me.
Here's what she wrote about me (without the accent marks because I don't know how to put them in the text)
Voila ma mere. Elle s'appelle Kathy. Elle a 46 ans. Elle est la femme de Scott. Elle est petite. Elle n'est pas grosse. Elle est brune foncee. Elle a les yeux bruns. Elle est penible, mais elle est intelligente. Elle adore fair les magasins et manger au restaurant. Elle n'aime pas regarder les matchs a la tele.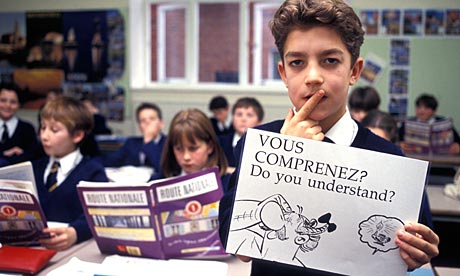 Not being a French speaker, I could still figure out most of the things she wrote, but
penible
?
"What's
penible
mean?" I asked.
"She is a pain in the neck," she responded.
"No really, what does it mean?"
"She's a pain in the neck."
"You wrote that about me?"
Lots and lots of giggles to the point of bending over. Then she translated the whole thing:
There is my mother. Her name is Kathy. She is 46 years. She is the wife of Scott. She is short. She is not fat. She has dark brown hair. She has brown eyes. She is a pain in the neck, but she is smart. She loves to shop and eat out. She doesn't like to watch games on the TV.
"I wrote it when you were being mean to me, and I was running out of adjectives because you were #6 on the list."
Great. Not only am I a pain in the neck, but I was #6 on the list after Grandma, Grandpa, Uncle Andy, Auntie Michele and Dad. (Much giggling about how I was #6)
"You were #6 when I wrote the paragraphs, but you're #4 in the book."
#4, #6. Guess who I'm thinking
est penible
?